August deadline for 2021-22 subs
If you haven't yet paid your annual subscription for 2021-22, please remember the England Athletics deadline was extended because of COVID until the end of August. After that you will not be eligible to compete or take part in training if you haven't paid. There is information on facebook and HEJA about how to do so.


The Longwood Harriers who celebrated Derek Ibbotson's world mile record from 1957
by competing in age group races on the track

Longwood Harriers Athletic Club
is a Running and Athletics (Track & Field) club that is 133 years old in 2020; it began as a running group from St Mark's Church in Longwood, Huddersfield in 1888, but we now train at Leeds Road sports complex. We welcome Athletes from all parts of the community from nine years old and upwards. (Note: we do not have specialist coaches needed for under 9s, so please do not bring younger children even with older siblings, as they will not be allowed to take part)
Once a member all Athletes are expected to take part in local, county, regional and national competitions as appropriate, organised through the club. Individuals also compete in club colours in events they enter themselves. Taking part in competitions is a condition of continued membership and is reviewed each year on subscription renewal.
We offer regular training and access to competitions; in return, as our membership form states, there is an expectation that all members will compete for the club during the year whenever they can

Club Members/Parents/Relatives
We currently have a waiting list for the Juniors. Why not ask about training as a coach or official? The club is very popular and we really need further help at training
Club information leaflet about training and
Link to England athletics website information



Pictures taken at events and links to results are mostly on our facebook page

which any current club member can join on request. They are also on Twitter and on the Heja team app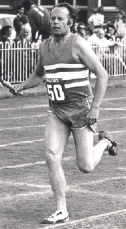 Derek Ibbotson competing for Longwood Harriers -
1933-2017 (
About Derek
)
Our Annual Club Presentation evening and Social will take place in March

Upcoming competitions and events
Check our Facebook page, on Twitter and on Heja


--
Important information about Club events
Training - for the Juniors, we are continuing with a Tuesday group OR a Thursday group only, to keep numbers low until we know exactly who we still have after COVID

A decision on training, as always, will be based on advice issued by England athletics. Latest is her

e:

England Athletics

Many events resumed from April 2021:


The West Yorkshire league (all age groups) Championship will no longer take place. This date (12th September) will now be replaced with the league event missed on 17th April
The YADAL league is now complete for this year
The Northern League (Seniors and under 17s) finishes on Sun 1st August at Newark

See our Club fixtures page for the latest information we have. Please note that some of these events may still not go ahead so check back regularly


COVID-19 has not gone away. Please follow health advice given by the NHS and the Government. NHS website

Look yourself up! Official British Athletics results and ranking



Longwood runners at the Club Road Handicap Races at Storthes Hall April 2019


Longwood Harriers Senior Athletes events
(Seniors and U17s for some events)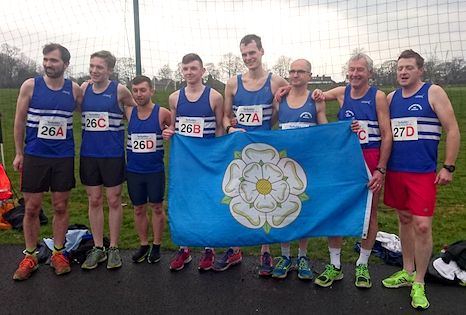 Longwood competitors in the Yorkshire County Road Relays 2018
Longwood Harriers club Track 10Km results 2019
Longwood Harriers club track 10km - results 2018
Club Road League and others (see results page)
All coaches at Longwood are British Athletics qualified and they and other helpers give their time unpaid. We rely on parents and older members being involved to support our activities, whether this is at training, at an event or with any expertise they may have. We can offer British Athletics training to those who may wish to become coaches or athletics officials; you don't need experience!
In the Summer, Track & Field and Road Running are the norm. In the Winter our focus is on Cross Country with Road Running continuing throughout the year. Our main training details are given on this page. Further details are given on our training summary page. Look here for Joining details
Training - Tuesdays and Thursdays 6:30p.m. for Juniors (up to 18), 7:00 p.m. for Seniors (In track season track use from 7:30 p.m.).
Leeds Road Playing fields
Huddersfield. Small track fee payable for track hire each session