Longwood

group
Club members only
---
Longwood blue hoody tops available. Complete the form here try one at training for size and make the payment
---
Presentation evening 2011
Compare your performances:
View all for official events
Compare yourself with others in England
Compare yourself with others in our club
View your own personal page
See your targets in 'Rankings' section
Longwood Harriers Athletic Club is a Running and Athletics (Track & Field) club that was 125 years old in 2013. We welcome Athletes from all parts of the community and all ages and abilities from nine years old and upwards. As Joe Percy said in his introduction to the book published on our centenary "Sixty years a member of Longwood Harriers A.C. and I can honestly say that I have enjoyed every minute of it."


Remembering Bill Dance - Longwood Coach
I'm afraid we have more sad news. Bill Dance a coach with Longwood, died in hospital on Friday 19th September aged 78.
Bill was a life member of Longwood Harriers. After an illustrious athletics career with both Belgrave and Longwood harriers, Bill devoted his life to coaching and became a National Coach. He coached athletes from Longwood and other clubs to National and International standard.
He was well respected by all athletes and will be sadly missed by the whole club, by his friends in his native North East and across the country
Click here for a tribute from Northern Athletics website
---
---
Details of 2014-15 Club competitions and events

- Cross country season

We offer you regular training and access to competitons; in return as a member you are expected to compete for the club as often as you can. Our purpose is to compete as a team and as individuals. Keeping fit is a bonus but not our primary aim
We are based in Huddersfield, West Yorkshire and train on an all weather track located at the Leeds Road playing fields. Why not come down on a training night to give it a try for free? You can come along to one or both sessions each week, but remember the purpose of training is to prepare for competition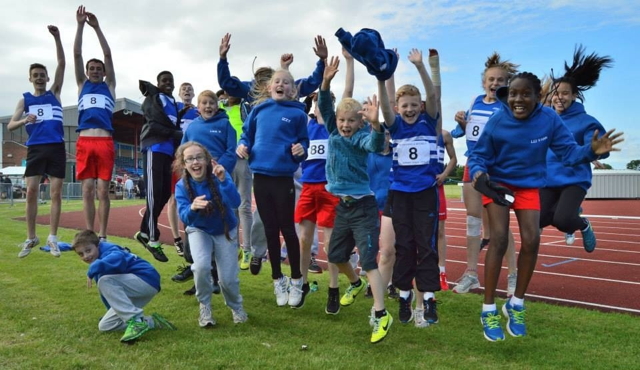 Photo by: Steve Clark
Some of the team at Cleethorpes for the Yorkshire and District athletics league Sun 15th June 2014
(click image for full version)
---
All coaches are British Athletics qualified and they and other helpers give their time unpaid. We rely on parents being involved to support our activities, whether this is at training, at an event or with any expertise they may have. We can offer British Athletics training to those who may wish to become coaches or athletics officials; you don't need experience!

In the Summer, Track & Field and Road Running are the norm. In the Winter our focus is on Cross Country with Road Running continuing throughout the year. Our main training details are given on this page. Further details are given on our training summary page. Look here for Joining details
Subscription Fees for 2014-5

Juniors annual fee of £15
(includes students)
Seniors £20
The fee is made up of a fee from British athletics of £10 and a club fee of £5 for juniors and £10 for seniors (which this year have not changed)
New Longwood Harriers club officers and committee, coaches and team leaders for 2013-14 elected at the AGM are now on this website here
Remembering club members who are no longer with us
Isaac Nash
2002-2014
Promising young distance runner who was lost in an accident off Anglesey
Richard Hardcastle
1947-2012
Club President and long serving member of the committee, runner and competitor
Geoff Shaw 2014
Former president and track official (Starter) for Longwood Harriers
Summer time
(April - September)

Tuesdays




Thursdays

Juniors
6:30-7:30

Winter time*


(October - March)

Juniors
6:30-7:30

*On Thursdays in Winter we don't have exclusive use of the track
---